Science Club
Science is the study of the nature and behaviour of natural things and the knowledge that we obtain about them. Science is a practical subject, teaching of which cannot be done properly only in theory form. Science is what we do to find out about the natural world. Science uses mathematics and logics. Science makes observation and experiments and produces accurate facts, laws and theories. Science usually refers to a way of pursuing knowledge. For proper education of science, labs are equipped with sufficient equipments and apparatus in our School where students learn to handle various apparatus and to think independently. While carrying out various experiments, they draw conclusions from their studies which raise their level of self confidence and develop scientific attitude among them. Various exhibitions, quizzes, inter and intra-schools activities are organized in the school based on science to encourage the students.
Math Club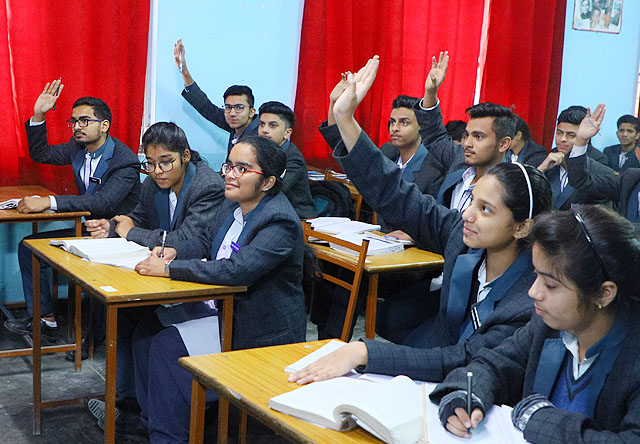 "Mathematics is not a contemplative but a creative subject." - By G.H. Hardy
Education and extra curricular activities both are indispensable ingredients in the making of a student. These extra and co-curricular activities not only embellish the students personality but also exhibit their versatility and flair. With this objective many Inter as well as intra school exams and activities are conducted by our reverenced institution in which students take their initiative with an ecstatic and euphoric attitude.
We as 'The Mathematic club at CVPS' put in our best endeavours for betterment of a personality by organising various activities as well as exams. In the session 2019-20 ample number of impeccable exams were conducted by us, such as 'The Aryabhatta Ganit Quiz' etc. in which students responded with great enthusiasm.
Fine Art Club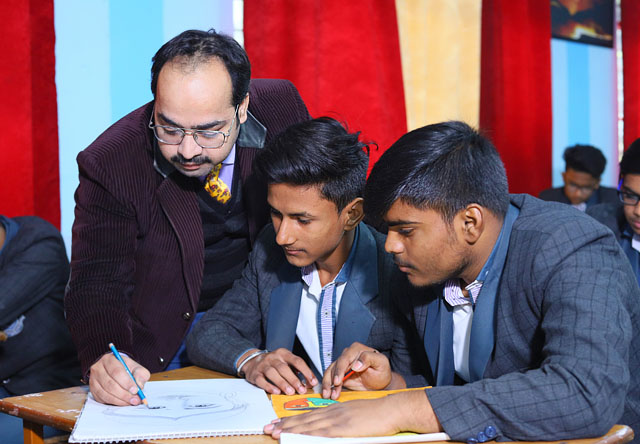 Fine arts are one of the simplest and most efficient mean of communicating visual ideas through colours on canvas.
Art department of our school is a corner where creativity flourishes, where the students reflect their innovative creativity with the help of paint and brush. If one happens to visit the department one witness's oil paintings, water colour paintings, miniature paintings, modern art, POP art, Clay modeling, 3D art and Craft.
Art department caters to needs of all kinds of students. Various forms of arts training is provided to the students like – Madhubani paintings, Sketching, Still Life composition, Portrait making, Oil paintings, 3D Art and Craft.
Besides all this decoration of all the functions in the campus is looked after by this department.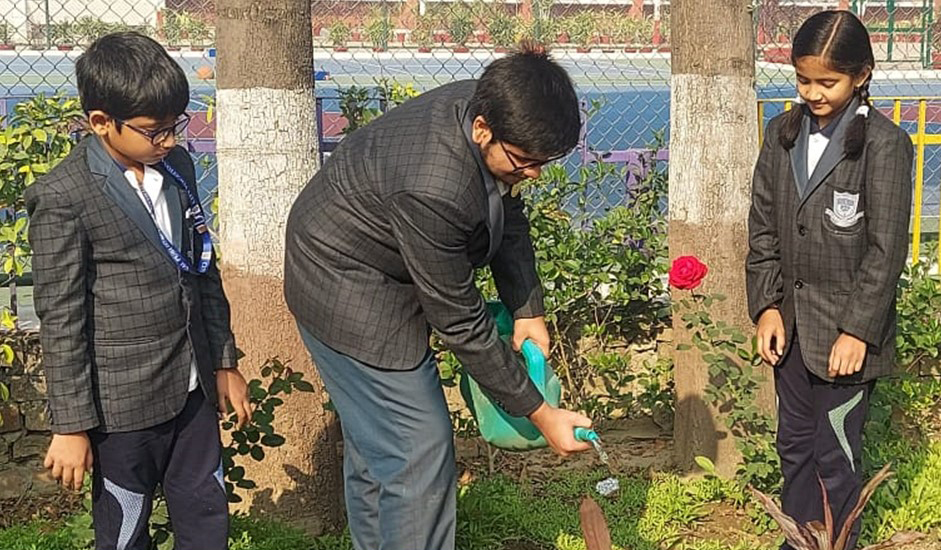 "There is enough for everybody's need but not for anybody's greed." – Mahatma Gandhi
The above statement is aptly voiced by Gandhi ji as he realized that the root cause for the depletion of natural resources is the greedy and selfish nature of humans and the exploitative nature of modern technology.
In this fast pace of advanced technology, somehow we have forgotten that we have not inherited the natural resources from our ancestors rather we have borrowed them from our successors.
We at CVPS at our accord try to reduce the dilapidation of nature in the best possible manner. In the same concern various activities are held round the year like savior's Competition, Workshops, Seminars & Vermicomposting.
The tagline 'Jal hi jeevan hai' is brought into implementation by the enthusiastic participation of pupils in various debates on water pollution and its conservation thus making the students responsible citizens of the nation.
Music Club
"Music is a more potent instrument than any other education, because rhythm and harmony find their way into the inward places of the soul." - Plato
Music is considered as an important part of curriculum thus it has been introduced as an optional subject at CVPS for senior secondary classes also. The music club aims at providing an opportunity to enhance the knowledge among the pupils and to attain the same purpose, various cultural activities and competitions are organized throughout the year. It provides an amazing platform to brush up the unique skills of the students. Keeping in mind that music is an expression of feelings and it has an enormous impact on the imagination of young minds, the music club conducts morning assembly thus eases out the stress and brings tranquility within the heart. The faculty of Music Club regularly takes classes and students are trained in a wide variety of Indian and Western musical instruments.